Newsroom
Latest media releases from Lion Air
Lion Air Released On Time Performance 85,2% in April and 85,78% in the first quarter of 2019
May 6, 2019, 11:00 AM by Lion Corporate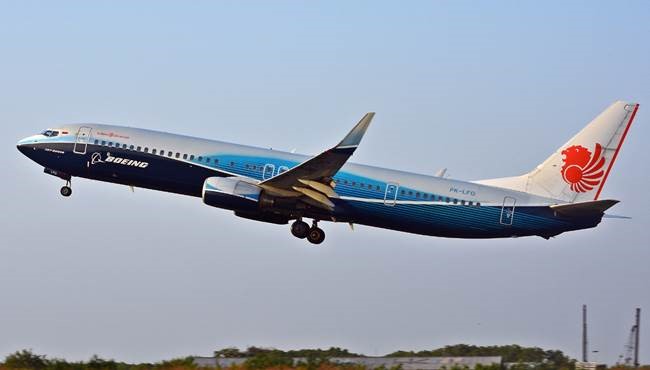 Information Supporter : Lion Air type Photos Boeing 737-900ER by Daniel Andika.
JAKARTA - 06 May 2019. Lion Air (JT flight code) member of Lion Air Group release information new in connection achievement level accuracy time ( on time performance / OTP) 85.2% during April 2019 with a total of 12,300 flights from an average of 400-420 frequencies fly per day , which is served to more from 51 cities aim domestic and international.
April OTP year this to show number highest or increased 23% compared to 69.2% in the same month in 2018 and 64.9% in 2017.
For OTP during four month in a row ( January - April / quarter first ) 2019, Lion Air recorded number positive 85.78% or go up around 32.7% of the acquisition of 65.3% in 2018 and 64.6% in 2017 in the same period, with average 49,200 total flights.
OTP data is results reports Integrated Operation Control Center (IOCC) Lion Air Group is together and right time (real time) . Calculation based on movement the plane when departure (departure) and arrival (arrival) in time less than 15 minutes from schedule specified in the city air scale big and middle class.
Achievement of OTP 85 , 78 % at quarter I / 2019 is challenge and opportunities for Lion Air inside maintain the performance and prepare to the level of accuracy time operational the best.
Lion Air also participated deliver appreciation to travelers on contribution support accuracy time flight , start from the reporting process (check-in) to arrived at the destination . It able to support smoothness operational.
On chance this , Lion Air is very acceptable love on role active work in forming accuracy time from all over the crew nurse and Lion Air employees throughout network . Lion Air too say thank you love to various those who already involved and support full related Lion Air operations.
In step strategic about level accuracy time , Lion Air always doing coordination and communication intensive follow standard operational joint procedure (SOP) party related . Lion Air runs operation the plane air corresponding rules and instructions from factory maker aircraft , including maintenance aircraft , checking component , HR training , following procedure regulatory provisions.
Lion Air operates type plane , consists of 66 Boeing 737-900ERs (215 classes economy ), 38 Boeing 737-800NG (189 classes economy ) and three Airbus 330-300 (440 classes economy ). For Settings mechanism operation aircraft , Lion Air has utilization of 8-9 hours per day , an average of six the plane undergo care scheduled (schedule maintenance) and an average of five the plane as reserve (stand by).
Lion Air optimizes the plane with manage rotation ( movement) aircraft ) adjusted distance on route , infrastructure city air , level completeness passenger (load factor) and others . Lion Air uses system structured and continuous between care the plane (maintenance) , team operational and quick decisions (quick action) guna determine rotation new if there is obstacles that occur in the field (irregularities) guna parse impact delay flight.
Lion Air has seriousness for increase OTP inside effort give away service best including bring traveler and businessman (travelers) to aim right time , all at once answer dynamics and demand market in the era of millennials traveling . Every Lion Air's operational implementation culture safety (safety culture) and permanent put forward aspect safety and security flight (safety first).
In line strengthen quality service through OTP, Lion Air offers concept " Trend travel air simple " , according to the current era . If travelers will bring luggage when to travel then can buy baggage . Conversely , if leave without luggage , then not need pay baggage . With thus give away value more economical and affordable with selection capacity customized luggage needs.
For prepare plan travel more beginning , share travelers who will bring luggage could do purchase voucher luggage (pre-paid baggage) through agent travel (travel agent) , www.lionair.co.id and office sales Lion Air Group tickets . Purchase luggage price more frugal could do on when and after payment ticket (issued ticket) , conditions limit time maximum six hours before departure.
Every travelers ( except baby ), allowed bring one luggage cabin (cabin baggage) with maximum weighs 7 kg and one goods personal (personal item) as laptop bag / equipment baby / ingredients reading / camera / bag carry on woman (hand luggage) to in cabin (hand carry) , which follows rules apply corresponding maximum size dimension luggage cabin.
For media queries, contact us at the following:
Follow us on social media